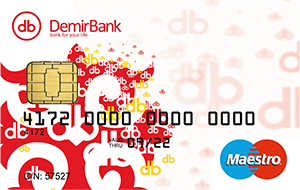 Maestro card allows you to safely use money on your account to pay for goods through a global network of ATMs, shops and websites.
It also means that you will always have the right amount to pay at the right time wherever you are, from your local supermarket to a petrol station abroad, in more than 100 countries around the world.
And since this is a debit card, you won't be able to spend more money on your Maestro card than you actually have in your bank account. To date, more than 666 million users worldwide have issued Maestro branded cards and appreciated the benefits of this payment instrument.
GENERAL CONDITIONS
| | |
| --- | --- |
| Card's account currency | KGS , USD, EURO |
| Card expiration date | 3 years |
| Issueandannualfee | free |
| Limit on cashing out funds via ATMs | 400 000 KGS |
| Limit on intrabank transfer in ATMs on customer's accounts | 400 000 KGS |
| Limit on non-cash payments via POS-terminals | 200 000 KGS |
Maestro card connected to a current account allows automatic conversion and use of funds on all existing accounts. To activate this service, you need to apply to any branch of the bank and sign the corresponding application.
Open an account in DemirBank
Fill in and sign an application for Maestro card issue
Conclude the General Bank Account Agreement and sign the corresponding application.
(*) If you plan to make payments on the Internet (access to gambling websites denied) or visit the countries with a higher level of risk, you should:
- apply to the Bank to sign an application form for opening access.
or
- write a message to customercare@demirbank.kg. In response to your request, you will be sent an application form for opening access..
IMPORTANT! Your email and your mobile phone number must be registered in the Bank database.