DemirBank is the first international bank in Kyrgyzstan with 100% foreign capital.
For 20 years of successful experience in the market of Kyrgyzstan bank has established itself as one of the most successful projects in the Kyrgyz Republic with the international investment participation. Stable relationships with customers, using of international standards and a strong team of professionals gives to the bank a competitive advantage in the market and makes it a reliable partner for customers.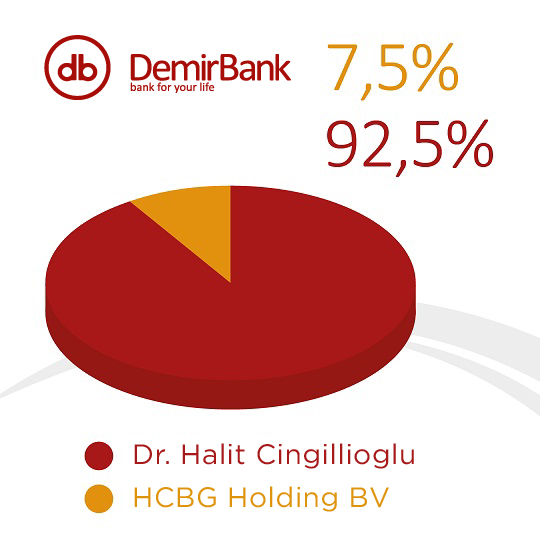 HCBG Holding B.V. is a financial holding company operating under the laws of the Netherlands, registered on May 16, 2003 with headquarters in Amsterdam, the Netherlands. The Company's activity includes four key segments: financial services, arts, technology and real estate investments. The company strives to use its experience, know-how and network to deliver optimal risk reversal deals, build a diversified portfolio of assets that ensures stable income in the short term.
Mr. Halit Cingillioglu, the main shareholder of DemirBank, has been successfully operating in the financial sector in Turkey, the Netherlands, Germany, Kazakhstan, and the Kyrgyz Republic for 30 years. Has extensive experience in the banking system, brokerage agencies, leasing, factoring and insurance companies.
On June 2, 2004, by the decree of the President of the Kyrgyz Republic, Halit Cingillioglu, the main shareholder and Chairman of the Board of Directors of DKIB, was awarded an Honorary Certificate "for considerable services in extending Kyrgyz-Turkish economic cooperation and strengthening friendship between the two peoples."